Description
mCookie 302 Expert Kit is a do it yourself, easily connectable, modular electronics kit which features Microduino's mCookie Series modules. Perfect for beginners and educators looking to learn or teach electronics and programming.
The mCookie 302 Expert Kit by Microduino is the largest kit containing the most modules and sensors offered in a kit by Microduino. The kit features the beginner friendly mCookie Series modules, sensors and trinkets.
Just like all other mCookie Series modules you can use the Arduino IDE to create your programs. For programming beginners, coding with Scratch and Mixly is a drag and drop programming alternative to text-based coding.
With the addition of motors in this kit you can now add motion to your projects. The Motion module can help detect movement and orientation with its gyroscope and accelerometer. In addition, the WiFi module enables your project to connect to the internet. Thus, creating an Internet of Things project!
The possibilities are only limited by your imagination!
Includes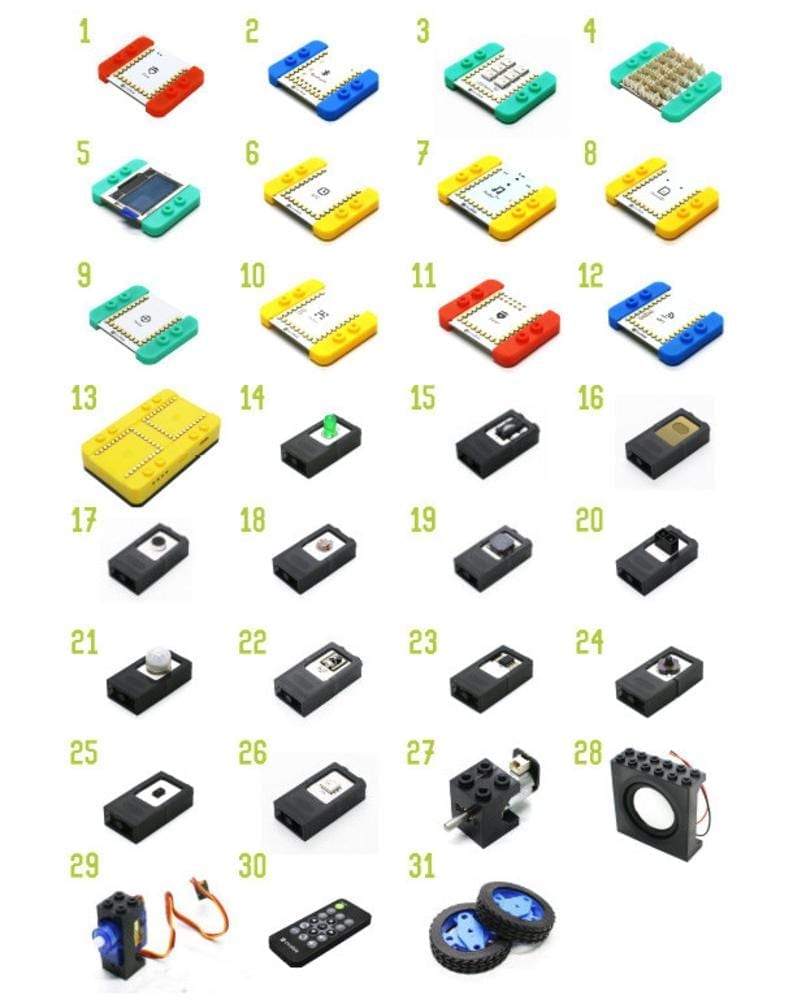 12 mCookie Modules
1 x Core Module

1 x Core+ Module

1 x Bluetooth Upload Module

1 x WiFi Module

1 x AudioPro Module

1 x Motion Module

1 x Real Time Clock Module

1 x SD Card Module

1 x LED Matrix Module

1 x Motor Controller Module

1 x OLED Module

1 x Sensor Hub Module
1 x mBattery — Rechargable Li-ion Battery and Programmer
15 Sensors (10 Types)
3 x Crash Sensor

1 x Gesture Sensor

1 x Infrared Receiver

1 x Joystick

1 x Light Sensor

2 x Line Finder Sensor

1 x Microphone Sensor

1 x Passive Infrared Sensor

1 x Temperature Sensor

3 x Touch Sensor
6 Trinkets (3 Types)
1 x Buzzer

2 x LED (Multi-color)

3 x LED (Single Color)
Accessories (11 Types)
1 x Earphone Adapter

4 x IO Adapter

2 x Motors

1 x MicroSD Card & Reader

1 x MicroUSB Cable

1 x Remote Control

24 x Sensor Cables

2 x Servo

1 x Servo Adapter

2 x Speaker

2 x Wheels
1 x mCookie 302 Expert Kit Manual